Jet Lag + Chippendales
Jet Lag + Chippendales
Paris 1
Ideal Gourmet Exclusive
"All Inclusive" menus from 50 €

Tel : 01 45 72 22 40

Private rooms
Bar
DJ
Buffets
Chippendales
1 drink after the meal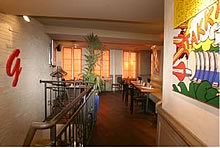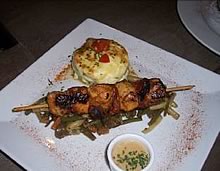 Young and Trendy
H
ere is a different kind of place, in the heart of the Halles neighbourhood, for strollers, gourmets, curious people and night owls: Jet Lag is located between the Montmartre and Montorgueil streets, and is
open seven days a week for all, and to everybody's delight. Marc and his happy team of « crew members » give their touch to this very different place.
T
he establishment is first of all an invitation to travel far and to relaxing. A place that is perfect for all your rendez-vous, be they friendly, professional, or with your loved one.
Y
ou have a large choice of atmospheres, between the two terraces and the two levels.
The mood can be romantic or adventurous, it is up to you… You will love enjoying your food with a view to the magnificent Saint Eustache church; if you are looking for adventure you will no doubt try the terrace on the rue Montorgueuil, and if you want to keep close and enjoy all kinds of cocktails, you will stay at the huge bar inside.
T
he quality of the cuisine has not been forgotten, the menu is very fresh with a subtle mix of traditional values and quality products, all served by a smiling and enthusiastic personnel who will always give you good advice.
T
he atmosphere is modern and warm, between portraits of famous people a la Andy Warhol, large screens taking you into an aquarium, out to the street or to a fireplace. And to make the atmosphere just right, music from the 80's is playing in the background, guaranteeing a good mood for all!
T
his ideal gourmet menu at an excellent price was especially created for your birthday parties or bachelorette nights. So please enjoy this menu full of flavours, and keep a place for dessert... a chippendale show is on the menu! Enjoy...
Privacy policy
No information will be passed
to a third party
Read more
OUR CUSTOMERS SAID
"An e mail just to tell you how pleasantly surprised I was by your service's quick reaction. When I got your e mail telling me the invitation was being sent to my guests, they already had it! I had bought the gift on Wednesday afternoon, and was quite surprised it had already arrived on the Thursday morning!"
Marinella C