MULTIRESTAURANT INVITATION
The Multirestaurant® invitation® Saveurs offers an all inclusive menu
for 2 people among our 50 Restaurants selected and recognized by the restaurant guides troughout France.
This is the perfect gift for foodies !
---
CHECK OUT OUR OTHER INVITATION MULTIRESTAURANT
Tags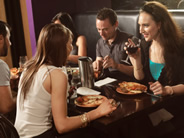 Restaurant gift invitation : The Temptation Multirestaurant invitation can offer an invitation restaurant of your choice. The lucky awardees of this gift will choose in this invitation restaurant the restaurant which will make them happy. Offer an invitation restaurantis a gift that makes fun for sure !
WARRANTIES IDEAL GOURMET
DELIVERY
48h OFFERED *
PAYMENT
SECURE
CHOICE
RESTAURANTS
* France only
All inclusive menus Idéal Gourmet
The all inclusive menu Idéal Gourmet include at least :
- Aperitif
- Entree
- Dish
- Dessert
- Wine
- Mineral water
- Coffee