MULTIRESTAURANT INVITATION
The Multirestaurant® invitation® Discovery offers an all inclusive menu
for 2 people among our 100 Restaurants selected and recognized by the restaurant guides troughout France.
This is the perfect gift for food lovers !
---
CHECK OUT OUR OTHER INVITATION MULTIRESTAURANT
Tags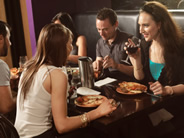 Gift boxes and Gourmet boxes : The Discovery Multirestaurant invitation is a gourmet gift very appreciated thanks to the wide range of tables available troughout France. The Idéal Gourmet gourmet boxes allow a gift choice. Offer an invitation restaurant is a gift that makes fun for sure !
WARRANTIES IDEAL GOURMET
DELIVERY
48h OFFERED *
PAYMENT
SECURE
CHOICE
RESTAURANTS
* France only
RESTAURANTS OF THE MONTH
70.00 € incl tax / person

75.00 € incl tax / person

50.00 € incl tax / person

50.00 € incl tax / person
All inclusive menus Idéal Gourmet
The all inclusive menu Idéal Gourmet include at least :
- Aperitif
- Entree
- Dish
- Dessert
- 1 bottle of wine for 2*
- 1 bottle of mineral water for 2
- Coffee
* Some restaurants serve the equivalent of a bottle of wine by the glass for two.