Le Passiflore
Le Passiflore
Paris 16
Ideal Gourmet Exclusive
"All Inclusive" menus from 90 €

Tel : 01 45 72 22 40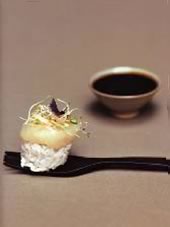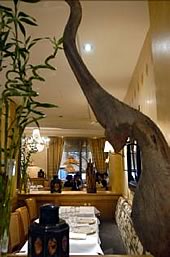 W
hat a pleasure it is for ideal gourmet to introduce this ambassador of French cuisine in Paris, with a star in the Michelin guide, located close to the Trocadéro across from what used to be Robuchon's stronghold, Jamin.
L
e Passiflore is located in the posh parts of the 16th district and offers elegant and sober settings. The atmosphere is relaxing and timeless, chic and refined. Here is an establishment that is perfect for any occasion, gourmet business meals or a romantic dinner à deux. And congratulations to the happy few who will manage to convince the Chef to privatize the place for a business or private event… The man behind this establishment is Roland Durand, Meilleur Ouvrier de France in 1982. He is extremely talented, has a passion for Asian cuisine while always respecting his roots in the Auvergne region. Roland Durand is a master at mixing products from our regions with more exotic ones. He was taught in the best establishments, Camélia in Bougival, Carlton in Cannes, Intercontinental in Paris, Savoy in London or Pré Catelan in Paris. He offers dishes that are flavoured with exotic spices for the greatest pleasure of your eyes and your taste buds. For demanding gourmets' greatest pleasure, Roland Dumas offers ideal gourmet guests an introduction to his best compositions through a menu that was composed especially for you, changing according to the seasons and the moods of a Chef attentive to his guests' every wish !
Privacy policy
No information will be passed
to a third party
Read more
OUR CUSTOMERS SAID
"An e mail just to tell you how pleasantly surprised I was by your service's quick reaction. When I got your e mail telling me the invitation was being sent to my guests, they already had it! I had bought the gift on Wednesday afternoon, and was quite surprised it had already arrived on the Thursday morning!"
Marinella C