Brasserie du Printemps
Brasserie du Printemps
Paris 9
Ideal Gourmet Exclusive
"All Inclusive" menus from 40 €

Tel : 01 45 72 22 40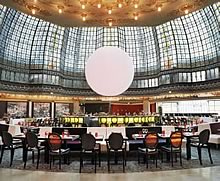 A beautiful shopping break
T
here is nothing like it in the world, the place is historic, magnificent, dazzling, you will have an unequalled sense of space here, it is timeless. If you usually come to Printemps de la Mode in the 9th district to shop, then you will be delighted to discover the spectacular glass roof created in 1923 by glass master Brière. Paris has got some architectural treasures in store in the most unusual places… This could very well or should be turned into a museum… That is already the case for musée d'Orsay, it used to be a train station…
O
n the 6th floor of this department store you will find the magnificent Printemps Brasserie that can welcome the most original of your events, you guests won't have enough eyes to take it all in and they will keep a pleasant memory of this place that is not as known as it should be. So seize this chance to enjoy it, you will be satisfy all your gourmet wishes here, for a seated meal, a cocktail party, anything is possible here and you will be charmed by the space available. You can also have a business meeting here, the launching of a product… Could there be a better place for such events than this temple of shopping, well known throughout the world. Ideal gourmet invites you to take a gourmet break in the splendid atmosphere of this brasserie, offering the luxury of such a place to your guests is a tribute to the most beautiful capital in the world. Enjoy!
Privacy policy
No information will be passed
to a third party
Read more
OUR CUSTOMERS SAID
"An e mail just to tell you how pleasantly surprised I was by your service's quick reaction. When I got your e mail telling me the invitation was being sent to my guests, they already had it! I had bought the gift on Wednesday afternoon, and was quite surprised it had already arrived on the Thursday morning!"
Marinella C