Aux Trois Escales
Aux Trois Escales
Paris 4
Ideal Gourmet Exclusive
"All Inclusive" menus from 40 €

Tel : 01 45 72 22 40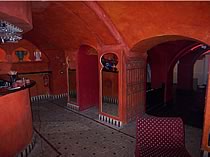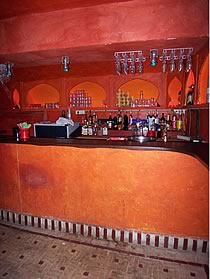 A
ux 3 Escales is a one way ticket to elsewhere… At the heart of historic Paris, this establishment located on rue Quincampoix is not afraid to take you on a journey and bring you miles away from your everyday life!
H
alf way between colourful Orient and festive and musical Spain, this restaurant was never really able to choose between the two, for the guests' greatest pleasure. On two levels, this restaurant really offers a wide variety of origins, it is truly original. For the reception rooms we have a spirit straight from a thousand and one nights, with low and comfortable seats, hundreds of colours and a décor that truly reminds us of the greatest heritage of this rich culture. The atmosphere, musical and subdued, is not too imposing and you will have the possibility of making a whole night of it on the dance floor after your meal.
I
n the cuisine department, only good stuff, colourful, full of flavours too… Ideal gourmet prepared a menu full of flavours for you, with Oriental choices we are proud of! Farandoles of delights as starters, traditional dishes made with love and know how, you will not be able to resist this journey to the land of spices and flavours, with a generous and refined cuisine. And to end this delicious moment of gourmet tasting, let yourself be charmed by sweet delights and the ever so popular mint tea. You just have to try it!
N
ow here is a place that is proud of its origins and of its festive and multiple choices. It is first of all a restaurant, but les 3 Escales is also a tapas bar, an improvised club, a place for relaxing that is typically oriental. A moment of pleasure, mixing experiences, journeys… Discover it among friends!
Privacy policy
No information will be passed
to a third party
Read more
OUR CUSTOMERS SAID
"An e mail just to tell you how pleasantly surprised I was by your service's quick reaction. When I got your e mail telling me the invitation was being sent to my guests, they already had it! I had bought the gift on Wednesday afternoon, and was quite surprised it had already arrived on the Thursday morning!"
Marinella C