Le Lup
Le Lup
Paris 6
Ideal Gourmet Exclusive
"All Inclusive" menus from 80 €

Tel : 01 45 72 22 40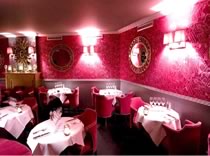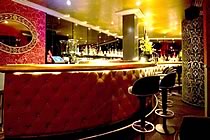 Ideally located at the heart of St Germain des Pres, here is a glittering establishment that is always full, it is a mix of a chic and trendy place, a restaurant and a Club and Parisians love it. Launching the place was a bet in itself, offering gourmet food late into the night and it is a success, but of course at Lup you can eat at anytime, from 8 pm in a space of over 300 sq meters. The decor at Lup is resolutely happy and festive, with a glamour side to it, very red colours to awaken your passions… The space downstairs is for dancing and clubbing while eating is for upstairs in a more subdued atmosphere, with pleasant seats, a magical ambiance, nice table cloths and good choices when it comtes to setting the tables. The service is done by attentive personnel, the beautiful and pleasant hostesses are very professional for everyone's greatest pleasure. As for the cuisine, this is a modern feast you are in for, with a truly French base and some international touches. The most delicate taste buds will no doubt be satisfied… You can cast a quick glance downstairs during your meal to enjoy the atmosphere and you will most certainly want to join the dance floor for a crazy night of dancing! The Club's bar is really beautiful, a piano proudly stands on stage and dominates a wild scene. The ideal gourmet menu allows a perfect discovery of the cuisine and of the Club, with a drink included and access to the dance floor, so go for it!
Privacy policy
No information will be passed
to a third party
Read more
OUR CUSTOMERS SAID
"An e mail just to tell you how pleasantly surprised I was by your service's quick reaction. When I got your e mail telling me the invitation was being sent to my guests, they already had it! I had bought the gift on Wednesday afternoon, and was quite surprised it had already arrived on the Thursday morning!"
Marinella C