Wagg
Wagg
Paris 6
Ideal Gourmet Exclusive
"All Inclusive" menus from 100 €

Tel : 01 45 72 22 40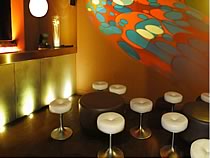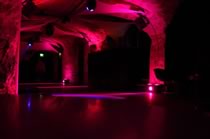 L
ocated at the heart of St Germain des Pres, close to the famous ex cabaret, now restaurant Alcazar, Wagg is a timeless and mythical place on Paris' left bank. A very nice vaulted dining room With visible stones, offering a very sober decor with British influences, reflecting the will of designer Terence Conran, a major player of this very international place. There are contrasts between designer metal furniture, polished glass and leather, hundred year old walls. That is how you create an intimate atmosphere, and Wagg is really the perfect place for successful privatizations. We can note a perfect air conditioning system, the excellent initiative of a large smoking area, very comfortably located on the first floor, in order to satisfy demanding customers. The welcome here is of excellent quality, as for the music we have a sound system of very good quality, the musical programme is varied and adapted to theme nights or private nights. A night at Wagg is a guaranteed change of scenery, a perfect combination for a night with a dinner cocktail. The guests have excellent possibilities to circulate and this is a guarantee of success. The cuisine is inventive, comes from next door friend Alcazar, the reputation of its Chef has been perfect for years and the cocktail offered exclusively by ideal gourmet will wake up your taste buds and will no doubt satisfy the most demanding taste buds. So come party at Wagg, you will have a successful evening, an ideal gourmet favourite!
Privacy policy
No information will be passed
to a third party
Read more
OUR CUSTOMERS SAID
"An e mail just to tell you how pleasantly surprised I was by your service's quick reaction. When I got your e mail telling me the invitation was being sent to my guests, they already had it! I had bought the gift on Wednesday afternoon, and was quite surprised it had already arrived on the Thursday morning!"
Marinella C