Moulin Rouge
Moulin Rouge
Paris 18
Ideal Gourmet Exclusive
"All Inclusive" menus from 165 €

Tel : 01 45 72 22 40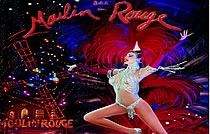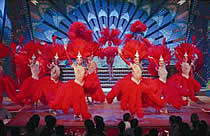 O
n the border between dream and magic…
The most mythical of Parisian cabarets invites you to experience a fairytale-like stroll that you are not about to forget. For one night, let go and be enchanted by the Moulin Rouge…
O
pened in 1889, painted by Toulouse Lautrec, revisited by Baz Luhrmann in 2001, this place of parties and pleasure is also the birth place of the famous French cancan, and home to the almost as famous "Goulue". The décors are magnificent, the colours and the atmosphere warm and lively, a night at the Moulin Rouge is truly enchanting at any moment. Before your dazzled eyes, Paris is born again with sparkles and strass in all the tableaux of the «Fairy» revue that you will discover. Nothing is too beautiful for this place that is famous throughout the world, paying tribute to one of the most beautiful French traditions. You will no doubt be charmed by this unique show with magnificent costumes, enchanting tableaux and French Cancan, the signature for this establishment!
T
he cabaret tradition is not truly a gourmet one, but Chef Laurent Tarridec, with a star in the Michelin guide, takes on the challenge: pleasure for the eyes and for the taste buds. "Each night at the Moulin Rouge is a party night. What we serve should be as good and beautiful as the tableaux, the costumes, the dancers. The plates should sparkle on the tables as much as the dancers do on stage". Demanding cuisine, noble products, elegant presentation, the cuisine is in itself an exceptional moment that could be compared with the best tables in town...
A
night at the Moulin Rouge is a promise… the promise of pleasure, of a party, a dream while awake… Here is the ideal place for an exceptional and unforgettable night. offers you a prestigious establishment where perfection and dreaming away are synonyms.
Privacy policy
No information will be passed
to a third party
Read more
OUR CUSTOMERS SAID
"An e mail just to tell you how pleasantly surprised I was by your service's quick reaction. When I got your e mail telling me the invitation was being sent to my guests, they already had it! I had bought the gift on Wednesday afternoon, and was quite surprised it had already arrived on the Thursday morning!"
Marinella C