Atelier Guy Martin
Atelier Guy Martin
Paris 8
Ideal Gourmet Exclusive
"All Inclusive" menus from 180 €

Tel : 01 45 72 22 40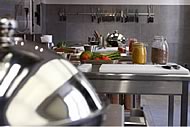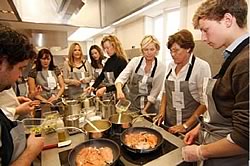 At Grand Véfour Guy Martin makes the art of gourmet cuisine reach new heights and here he offers a gourmet lesson in settings that are perfect for it. The heart of the 8th district for an introduction to gourmet art, could it be better?
This is a logical extension of Guy Martin's world… L'Atelier is located close to Champs Elysées and Place Beauvau and its purpose is to make grande cuisine more accessible, and share differently. That's what our Chef wanted! Once you have passed the inner courtyard with a zen atmosphere, you will discover a place where refinement is key. Oak floor, Italian ceramics, modern kitchens, all that awaits you on three levels.
Two large and light kitchens with a view overlooking the courtyard, and an intimate atelier under a vaulted ceiling, all that being dominated by a glass roof with sober lines.
And of course, the key moment of the meal, if you ever want to taste it, is the preparation! You will learn everything about making a gourmet meal, and of course the most important is that you will be able to express your creative touch. Here the classics are key, with the inventive touch we owe to Guy Martin, you will learn to work on it, and to serve it. Of course when it comes to gourmet cuisine, content and presentation are one!
To be with you and to guide you, you can count on a team of Chefs who have all learnt their trade with inspiration source Guy Martin.
You will of course end up tasting this meal made by your now expert hands!
This is perfect for friends or for colleagues, ideal to make a team stronger, and L'Atelier Guy Martin can welcome up to 60 people, in this establishment with a subtle charm.
So come try this gourmet adventure, it is new, and you will no doubt enjoy this! Ideal gourmet invites you to discover a cuisine class signed Guy Martin. Unforgettable!
Privacy policy
No information will be passed
to a third party
Read more
OUR CUSTOMERS SAID
"An e mail just to tell you how pleasantly surprised I was by your service's quick reaction. When I got your e mail telling me the invitation was being sent to my guests, they already had it! I had bought the gift on Wednesday afternoon, and was quite surprised it had already arrived on the Thursday morning!"
Marinella C