Deda
Deda
Paris 1
Ideal Gourmet Exclusive
"All Inclusive" menus from 60 €

Tel : 01 45 72 22 40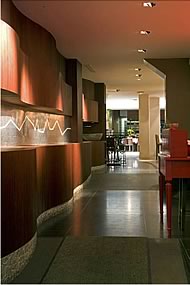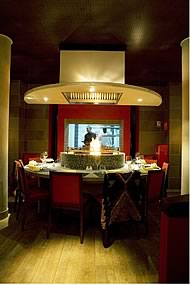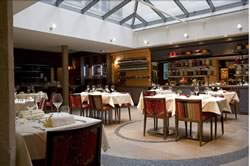 Ideally located between Louvre and Bourse, close to the famous Pied de Cochon, you will find a fabulous restaurant with Georgian accents to it, called DeDa. DeDa is truly well named, since it translates into Home country, pillar of the family construction. Everything here is evocative of the warmth of family ties and home. As soon as you enter the place, you will discover a surprising bread oven, Toné, still working and a clear proof that everything here is home made. The décor in this different place is of high quality, not showing off though. In warm tones, from chocolate to beige, through dark red, it get its rhythm from a harmony of the seats, sometimes round, sometimes bench like, or square… High or low seats according to the place, because this restaurant hides different spaces, as varied as they are harmonious. You can note designer crockery, well suited and elegant. You will have understood that this place is a maze of different atmospheres, mixed like a puzzle, with very fluid circulation, perfect for a standing cocktail party, a dinner and cocktail… Deda is well suited for anything, from romantic dinners to business lunches and it will welcome your private gatherings too, under the glass roof, with a lot of light and U shapes. It could also take place in the pretty and pleasant private dining room. There is a space dedicated to rotisserie, where you will be able to really enjoy the different styles of cooking… And when the weather allows, why not go for the nice terrace with its wooden tables? As for the cuisine, a touch of Georgian accents gives an extra something to more French traditional roots. Dishes are composed on demand, the work behind it is remarkable and you will not regret trying this. The excellent ideal gourmet menu offers a discovery of Georgian flavours through a choice of starters and desserts that are as pleasant to the eye as to your taste buds. Your dish will be full of flavours, chosen among the specialties of the establishment, one more delicate than the other, with tasty rice or pearl barley… Georgia is present, but never too much. There are subtles invitations on a journey here, a peaceful atmosphere, some discoveries that will remind you of this country. An ideal gourmet favourite!
Privacy policy
No information will be passed
to a third party
Read more
OUR CUSTOMERS SAID
"An e mail just to tell you how pleasantly surprised I was by your service's quick reaction. When I got your e mail telling me the invitation was being sent to my guests, they already had it! I had bought the gift on Wednesday afternoon, and was quite surprised it had already arrived on the Thursday morning!"
Marinella C