Pullman
Pullman
Paris 15
Ideal Gourmet Exclusive
"All Inclusive" menus from 95 €

Tel : 01 45 72 22 40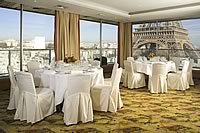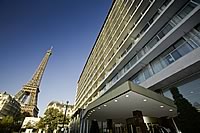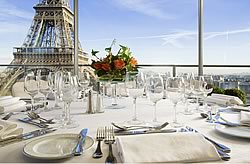 If you are looking for a trendy very Parisian place, with people from everywhere, a view and gourmet cuisine, don't look any further, the Pullman Paris Tour Eiffel has everything you need!
Try the magnificent Trocadero room on the 10th floor, a delight for your eyes since the Eiffel tower is everywhere to be seen, just like the Seine River and its lights, boats and the whole of Paris is at your feet. You are in the privileged settings of a 4 star hotel, now let yourself be charmed by the specialties of the house in a buffet, cocktail or seated dinner. The cuisine is daring and generous, with colourful dishes full of flavours. Your taste buds will be delighted and all this happens under the protection of the Eiffel Tower of course! This is a special place that ideal gourmet can recommend for your family events, your business banquets and the numerous rooms can easily be used for partying as well if you should wish for it. You can continue your receptions until late at night with a jazz trio or a good DJ. Atmosphere, unique view overlooking the Eiffel tower and the river, it's unique, don't miss it!
Privacy policy
No information will be passed
to a third party
Read more
OUR CUSTOMERS SAID
"An e mail just to tell you how pleasantly surprised I was by your service's quick reaction. When I got your e mail telling me the invitation was being sent to my guests, they already had it! I had bought the gift on Wednesday afternoon, and was quite surprised it had already arrived on the Thursday morning!"
Marinella C