Aux Petits Joueurs
Aux Petits Joueurs
Paris 19
Ideal Gourmet Exclusive
"All Inclusive" menus from 40 €

Tel : 01 45 72 22 40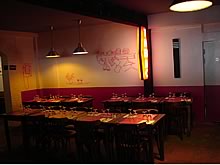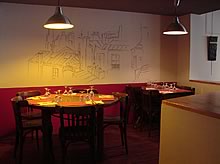 At the heart of Paris' 19th district, on a narrow street, you will find a very nice little concert bistro, Aux Petits Joueurs. After having grown up in the 11th district, we now find the whole team pleasantly located in a 500 sq meter space of pure friendliness. The décor is sober, the lighting subdued for a bistro that really puts an accent on nice hearty cuisine and live music. So come gather around a nice place and listen to concerts of French music, or jazz, even some rock concerts, here is really what Aux Petits Joueurs is all about. Taste buds dance, ears swing to the sound of the best artists of the moment. With your family, among friends, as a couple, you will all find your place here, close to the scene or on the veranda, even in some remote corner and you will have a unique evening, in the sign of simplicity. For even more friendliness, the kitchen is completely open and the Chef is part of your evening! The frank and authentic scents are in the whole dining room and the guests around the tables truly enjoy it. For your taste buds' greatest pleasure, the Chef offers simple and efficient French cuisine. There are some traditional flavours, others are more daring, it will truly suit all tastes and all appetites. With the ideal gourmet menu, the Chef takes his gourmet guests to the heart of friendly regional cuisine, a very pleasant one at that, perfect for a night that will turn out to be an improvised party. Quality cuisine for a very nice price, in unique settings, that is the recipe for a successful evening! An ideal gourmet favourite!
Privacy policy
No information will be passed
to a third party
Read more
OUR CUSTOMERS SAID
"An e mail just to tell you how pleasantly surprised I was by your service's quick reaction. When I got your e mail telling me the invitation was being sent to my guests, they already had it! I had bought the gift on Wednesday afternoon, and was quite surprised it had already arrived on the Thursday morning!"
Marinella C