Guinguette Martin Pêcheur
Guinguette Martin Pêcheur
Ideal Gourmet Exclusive
"All Inclusive" menus from 40 €

Tel : 01 45 72 22 40

Musical and dancing animations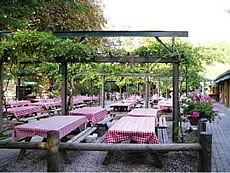 Let's dance!
"

Q

uand on s'promène au bord de l'eau,
Comm' tout est beau...
Quel renouveau ...
Paris au loin nous semble une prison"



A

famous French song, composed by Julien Duvivier for Jean Gabin in one of his movies… A huge success for the movie, with a song describing the sweetness of life by the riverside, with Paris seen as a prison far away….


Y

ou will no doubt be surprised by the amount of young people coming here to look for authenticity, the charms and simplicity of an atmosphere everyone thought was gone! So take the little bridge and enter this wonderful guinguette, typical little French riverside restaurant! You will be comfortably seated underneath flowers in the shade and when the night falls, the little lamps will guide you. Just looking at the décor, you will discover what you thought belonged to longgone times…


M

usicians, accordeon players full of talent will be with you through your meal, and you will enjoy all the rhythms of French traditional music. As the night goes on, it will be time for dancing… waltses and tangos, in front of children who will no doubt enjoy the freedom they have in this restaurant.


W

e owe all this to Jean-Yves, who created the place and now owns it; he knows how to make tradition live merrily on. The cuisine is rather simple, country-inspired, adapted to this place where everything is combined for you to have a marvellous time, by the river, surrounded by birdsong.On a le cœur plein de chansons…»
Privacy policy
No information will be passed
to a third party
Read more
OUR CUSTOMERS SAID
"An e mail just to tell you how pleasantly surprised I was by your service's quick reaction. When I got your e mail telling me the invitation was being sent to my guests, they already had it! I had bought the gift on Wednesday afternoon, and was quite surprised it had already arrived on the Thursday morning!"
Marinella C