Hollywood Savoy
Hollywood Savoy
Paris 2


Tel : 01 45 72 22 40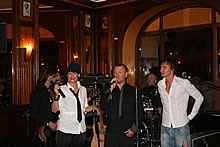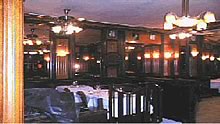 Close to the Paris stock exchange, at the heart of our capital's second district you will find a place that never goes out of style, a festive place too, where many regulars meet.

There is a chic brasserie atmosphere to welcome businessmen or bank managers for lunch, in very quiet surroundings and then this large restaurant with its décor reminding of the 30's transforms for dinner, becoming a dazzling and happy place, all around a type of cuisine that is classic gourmet. When the Hollywood Savoy changes atmospheres, you should not be surprised if you hear waiters and waitresses sing, they are a part of a well rehearsed show. Musicians take their place on stage, and the show starts for a very interactive night ahead, in a very friendly and pleasant atmosphere. Every night except Sundays, the Hollywood Savoy goes from chic brasserie to one of the most party prone places of the capital. The lighting changes and pictures of Hollywood stars appear again. This place is perfect if you want to organize a festive and crazy night out, it is good for instance for companies who want launch a product, have a Christmas party or anything else for that matter. You'll enjoy a show, have a chance to dance and along with that enjoy a dinner of good quality. Couples or groups of friends of all ages will also be charmed by this atmosphere where partying is really at the core of the show.The band is there every night to help the artists/waiters perform classics from the 60's, blues, country, gospel or jazz, often with the help of the audience… you! At the end of your dinner and show, the Hollywood Savoy turns into a night club, and the voices of waitresses will have you dance all night long. This is a place to express yourself, with a happy touch to it, it is never too much, the recipe has worked for a while! Ideal gourmet is happy to present it, so come on, dare the Hollywood Savoy!
Privacy policy
No information will be passed
to a third party
Read more
OUR CUSTOMERS SAID
"An e mail just to tell you how pleasantly surprised I was by your service's quick reaction. When I got your e mail telling me the invitation was being sent to my guests, they already had it! I had bought the gift on Wednesday afternoon, and was quite surprised it had already arrived on the Thursday morning!"
Marinella C