Le Petit Pont
Le Petit Pont
Paris 5
Ideal Gourmet Exclusive
"All Inclusive" menus from 40 €

Tel : 01 45 72 22 40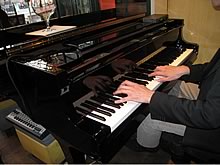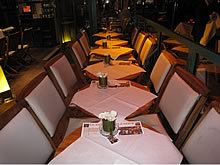 In of the most beautiful and historic neighbourhoods of Paris, the Latin Quarter, Le Petit Pont welcomes gourmets who want to spend a nice friendly moment around nice cuisine. Le Petit Pont was a wooden fortress in the 9th century, it then became a prison under Charles 6th, it is now a place with typical settings, they are modern and festive as well. Across the street from Notre Dame, this place is truly magical and full of history. In order to get this warm type of décor, apparent stone are subtly mixed with exotic wood and seats that are typical of Parisian brasseries. Colourful lighting makes the place happy and dynamic! And let's not forget the open and heated terrace, making it possible to enjoy the incredible view of one of Paris' most impressive monuments, in the winter as well as in the summer. The service here is simple, smiling, warm and efficient. Meals with friends, your family or your colleagues will all be a success here, in a very friendly ambiance. And the piano gives a nice finishing touch to your night, there are even possibilities to dance! So here is a friendly moment you will not want to miss! As for the cuisine, it is simple, French traditional cuisine is at the heart of the menu, but world cuisine is also a guest at times. Simple, full of flavours, it is well balanced and will be a delight for all taste buds, even the most gourmet ones! With the ideal gourmet menu, the Chef offers a typically Parisian stop, at the heart of the Latin quarter, at a very nice price!
Privacy policy
No information will be passed
to a third party
Read more
OUR CUSTOMERS SAID
"An e mail just to tell you how pleasantly surprised I was by your service's quick reaction. When I got your e mail telling me the invitation was being sent to my guests, they already had it! I had bought the gift on Wednesday afternoon, and was quite surprised it had already arrived on the Thursday morning!"
Marinella C