Musée du vin
Musée du vin
Paris 16
Ideal Gourmet Exclusive
"All Inclusive" menus from 60 €

Tel : 01 45 72 22 40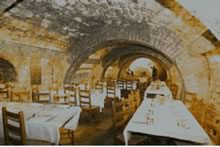 Le Musée du Vin is an institution in Paris, a non typical place though and it welcomes all of those who want to have a pleasant moment in Bacchus' company ! Located in the 16th district of the capital, a few minutes away from the Trocadéro, this museum offers a journey to the heart of history and times long gone. This place used to be a hill dominated by the Rouvray Forest. Monks started settling there in 1493 and started producing a wine that everybody liked. The walls of the museum bear witness to that past, for curious visitors and those who love a good story. The museum offers a tour of 300 metres, explaining the different wine producing methods and their history. You can have a guided tour or discover the museum by yourself, it is really interesting and you will learn a lot while enjoying yourself. Who would not want to organize a reception, a seminar, a theme night there? Wine shows, workshops, cocktails, there are a lot of possibilities here. Among colleagues, with friends or with your family, the Musée du Vin is a unique and unforgettable place. For a meal out of the ordinary, guests will be seated around a large table in one of the vaulted rooms dating back to the 15th century. Visible stones, candles, attentionate service, the old cellars are truly charming for all guests. The place works its magic, time seems to have stopped… In the kitchen, the Chef and his team offer traditional and classic cuisine. Gourmet and full of flavours, it goes with the best wine in town, a pleasure for all senses. With the ideal gourmet menu, the Musée du Vin invites guests on a gourmet journey, and for a pleasant adventure with wine as the theme.
Privacy policy
No information will be passed
to a third party
Read more
OUR CUSTOMERS SAID
"An e mail just to tell you how pleasantly surprised I was by your service's quick reaction. When I got your e mail telling me the invitation was being sent to my guests, they already had it! I had bought the gift on Wednesday afternoon, and was quite surprised it had already arrived on the Thursday morning!"
Marinella C