Nautique evenements
Nautique evenements


Tel : 01 45 72 22 40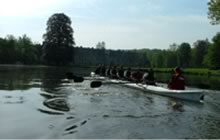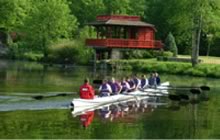 Rivers are of course a very much appreciated part of a landscape. They are a lively part of it, concentrating natural beauty and human activity on their banks.We offer you a rather nautical view rivers, in a green harbor, at the heart of a city and on the canal belonging to a prestigious castle.You will be able to experience a piece of the history of this river, what has made it, how it has evolved through the centuries.With the row boats, you will find that the spirit of the race is what motivates people, the idea to experience the beautiful sensations of a team sport. Pierre de Coubertin loved it, it is truly a complete sport too. Beginners or more experienced users will unite in a 9 person team, following the rhythm given by the head of team. Whatever participants' level, the teams are led in order to form a homogenous and coordinated group. The regatta will allow you discover the true magic of team work, the challenges of the race, all that in the most friendly way!With the dragon boats, the pleasure of team work is what motivates people, a willingness to experience a superb team sport.This very old sport originated in China over 2000 years ago with the legend of Qu Yuan, and the memory of the poet is celebrated each year, through symbols of integrity, and symbols for the fishermen's corporation.Beginner or more experienced user, 12 to 20 rowers unite their efforts behind the symbolic dragon head.Whatever the level of participants, the teams are led in order to form a homogenous and well coordinated group, on a distance of 250 metersWith the rhythm of the drums pushing you and getting louder by the minute, teams fly over the water like so many arrows towards their goal.The Dragon regatta will allow you to discover the magic of team spirit, to live by the sound of drums, experience the challenges of the race, in friendly way.
Privacy policy
No information will be passed
to a third party
Read more
OUR CUSTOMERS SAID
"An e mail just to tell you how pleasantly surprised I was by your service's quick reaction. When I got your e mail telling me the invitation was being sent to my guests, they already had it! I had bought the gift on Wednesday afternoon, and was quite surprised it had already arrived on the Thursday morning!"
Marinella C