L'Aiguière
L'Aiguière
Paris 11
Ideal Gourmet Exclusive
"All Inclusive" menus from 130 €

Tel : 01 45 72 22 40

Initiation to oenology
Blind tasting
Private dining rooms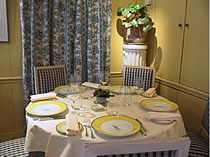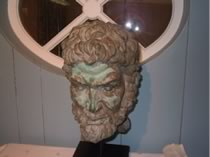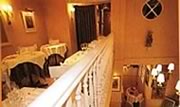 The taste of wine…
F
or an hour and a half, L'Aiguière will have you discover its passion for wine… Presentation, analysis and tasting, all around three wines selected by a Maître Sommelier.
I
t is in the heart of a very lively neighbourhood, between Bastille and Nation that you will find the very discreet restaurant L'Aiguière, in a former Inn that served as relay for Louis XIIIth musketeers. If you listen carefully, you might even still hear the sounds of black capes and you will most certainly hear the secret stories of the King's court…
T
he place itself has a history, creating a very special atmosphere, charming and with a well defined personality. The lighting is subdued and soft, giving an extra something to the elegant décor, inspired by Nordic Gustavian traditions: walls painted a pale yellow, Scottish Jacobs armchairs, visible beams, the famous iron centre light… everything here is combined to enhance the family spirit, the warmness of an exceptional restaurant.
A
nd what is even better than the décor is the work of Pascal Viallet in the kitchen. He likes to call himself a "freelance" and this discreet Chef will compose amazing dishes, very original and with a well defined personality. His cuisine is one of instinct, of passion. It is impeccable especially through his subtle mix of tradition and innovation.
I
n the dining room and in the wine cellar, Patrick Masbatin is in charge and he will ensure that your moment here is pleasant, what with a special and dynamic welcome and a very rigorous selection of prestigious wines. He likes to give advice, find the perfect harmony, have you taste new flavours and surprise you… your moment will no doubt be one of harmony and flavours.
T
o respect the characteristics of the establishment, ideal gourmet offers a «Harmony of food and wine » Menu, a true discovery of the very special world of Grande Cuisine. This world has no secrets for the two professionals you are about to meet at L'Aiguière…
Privacy policy
No information will be passed
to a third party
Read more
OUR CUSTOMERS SAID
"An e mail just to tell you how pleasantly surprised I was by your service's quick reaction. When I got your e mail telling me the invitation was being sent to my guests, they already had it! I had bought the gift on Wednesday afternoon, and was quite surprised it had already arrived on the Thursday morning!"
Marinella C