Le 6 New York
Le 6 New York
Paris 6
Ideal Gourmet Exclusive
"All Inclusive" menus from 95 €

Tel : 01 45 72 22 40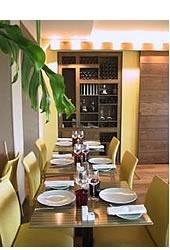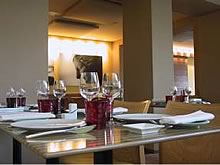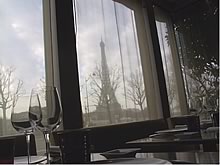 Primitive Arts & Contemporary Style
N
ow here is a long awaited opening… The museum on Quai Branly finally opened to the public on June 23d. It is devoted to Primitive art, for instance African, Oceanian, Asian and American civilisations. The museum boasts some 3500 works of art and a collection of 300 000 items, among which sculptures, cloth, statues, jewellery.
L
e 6 New York is covered with praise by the media, just as the restaurant is literally covered by its famous neighbour's lights: the Eiffel Tower's glittering façade is only a few steps away!
A
nd that is in fact a very good thing, for the place is truly worth a stop…
At the steering wheel we find Jérôme Gangneux, an affable and pleasant man who used to work for Jean-Pierre Vigato and is now Chef at Le 6 New York.
J
érôme is lucky enough to be able to bring an artistic note to everything he touches… The decoration of Le 6 New York is just a fine example of that: the design is resolutely modern, space and colours are in perfect harmony, the decorations are discreet and of good taste, the whole place reflects elegance and serenity.
L
et us be seated in comfortable leather chairs and enjoy a glass of champagne and its appetizers, while admiring an unforgettable view of the Eiffel Tower.
O
nce this quiet moment has passed, let's discover the compositions of a Chef who sees cuisine as he sees everything else, like an Artist. You can feel sound classical basics here, with a true touch of creativity that Jérôme would not dream of depriving himself of. The cuisine is in total harmony with the dining room, modern yet conventional.
I
t is indeed the perfect place for a pleasant moment, underlined by a pleasant welcome and very good service… Just like the "Le 6 New York – ideal gourmet menu", specially designed as a journey through an ingenious Chef's menu. He likes to please and is very successful at it!
Privacy policy
No information will be passed
to a third party
Read more
OUR CUSTOMERS SAID
"An e mail just to tell you how pleasantly surprised I was by your service's quick reaction. When I got your e mail telling me the invitation was being sent to my guests, they already had it! I had bought the gift on Wednesday afternoon, and was quite surprised it had already arrived on the Thursday morning!"
Marinella C