Close Up - Caricaturiste
Close Up - Caricaturiste


Tel : 01 45 72 22 40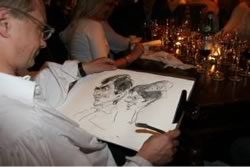 MAGICIAN :
He plays with cards as if he were born to do it. He finds them in the most extraordinary ways using techniques like telepathy and many more…


CARICATURISTS :
The artist can draw your guests in a smart way but always respectful.
Privacy policy
No information will be passed
to a third party
Read more
OUR CUSTOMERS SAID
"An e mail just to tell you how pleasantly surprised I was by your service's quick reaction. When I got your e mail telling me the invitation was being sent to my guests, they already had it! I had bought the gift on Wednesday afternoon, and was quite surprised it had already arrived on the Thursday morning!"
Marinella C