Pavillon Puebla
Pavillon Puebla
Paris 11
Ideal Gourmet Exclusive
"All Inclusive" menus from 100 €

Tel : 01 45 72 22 40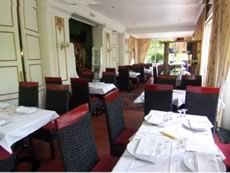 O
n the green heights of Paris your meal will be truly enchanting at Pavillon Puebla, a delicious gourmet restaurant that is ideal for all your professional events.
A
t the heart of the Buttes Chaumont Park, you could almost forget that you are in the middle of our somewhat crowded capital! This former guinguette in pure 1900's style is indeed very calm; it was brought to a second life by Vincent Cozzoli last year, and all that will trouble your relaxing atmosphere is birdsong and children laughing – they really like this park as it is ideal for outdoor games. The place itself is both historic and artistic. The main dining room is pure elegance and modern design, the two other dining rooms have more luxury to them. Vincent likes beautiful objects and he likes music, so in his Visconti salon you will find a splendid piano! The furniture is very tasteful as well, with Persian carpets, old style seats or historic decoration items that our host tastefully collects for yours and your guests' greatest pleasure. And the best is of course the shady terrace that you will no doubt love when the weather allows.
A
s for the cuisine at Pavillon Puebla, Italian roots are the dominant inspiration for these dishes that are light and full of sunshine. You will taste a delicately flavoured family cuisine, sparkling with Southern and Mediterranean accents.
S
o you don't need to look for anything complicated here, the values are simple, the purpose being for you to have a pleasant time here.
I
deal gourmet is always looking out for gems in gourmet Paris: you will no doubt be charmed by this magnificent restaurant, original and refreshing.
W
ith a superb interior and gourmet menu, this establishment will be perfect for all!
Privacy policy
No information will be passed
to a third party
Read more
OUR CUSTOMERS SAID
"An e mail just to tell you how pleasantly surprised I was by your service's quick reaction. When I got your e mail telling me the invitation was being sent to my guests, they already had it! I had bought the gift on Wednesday afternoon, and was quite surprised it had already arrived on the Thursday morning!"
Marinella C