Métamorphosis
Métamorphosis
Paris 6
Ideal Gourmet Exclusive
"All Inclusive" menus from 60 €

Tel : 01 45 72 22 40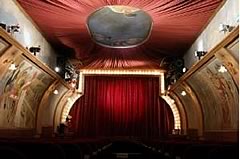 A little bit of magic in our all too rough world…
T
hat is the choice of Métamorphosis on board a very pretty ship-theatre, located sometimes close to Notre Dame, sometimes close to Pont Neuf, offering an escapade in the land of dreams and illusions.
F
irst metamorphosis: this former péniche transformed into a new style of cabaret, giving it a second youth. This is a place full of personality, the décor is really a success. The dining room on the upper deck is baroque in a way, charming with its panoramic view overlooking the city of lights and with its subdued atmosphere, very intimate. In the candlelight you will be able to enjoy a unique view on the Seine river, in a sweet and velvety atmosphere. It is also the ideal place for more formal events, as well as festive ones. And then in the superb theatre down below Metamorphosis offers you a magic show.
O
n the menu you will find simplicity, lightness and traditions. For your tastebuds' greatest pleasure, traditional French recipes get charming and strive to reconcile today and yesterday with a certain talent. Refined and delicate cuisine, reflecting this very charming place.
S
o come discover this unique unforgettable place in the heart of Paris… ideal for all kinds of events, Metamorphosis offers a world where magic and poetry are united with gourmet cuisine. ideal gourmet invites you in this magic place… Come on!
Privacy policy
No information will be passed
to a third party
Read more
OUR CUSTOMERS SAID
"An e mail just to tell you how pleasantly surprised I was by your service's quick reaction. When I got your e mail telling me the invitation was being sent to my guests, they already had it! I had bought the gift on Wednesday afternoon, and was quite surprised it had already arrived on the Thursday morning!"
Marinella C