Ideal gourmet first positioned itself on the gourmet gift market with a sample idea: "give a gourmet meal like you would flowers"...
Ideal gourmet was started in 2004 by Sylvain Carpriaux (former sales manager for American Express Europe, then General Director for General Electric Bank). The company first positioned itself on the gourmet gift market online through www.idealgourmet.fr , according to a simple idea: "give a gourmet meal like you would flowers". That is how the first ideal gourmet product was born, our gourmet invitation. The beneficiary enjoys an all inclusive meal in a restaurant.
In 2005 ideal gourmet felt the need to answer its customers' increasing wish to use the all inclusive menu and preferential prices for themselves. ideal gourmet creates the prepaid reservation, allowing you to book your restaurant and prepay your meal via internet. This reservation mode is similar to that used in the hotel industry, mostly by English, American or Northern European customers who are keen on using the web and paying online.
At the same time ideal gourmet gets contacted by an increasing number of companies who want professional advice for organizing their gourmet events, dinners, lunches. They also want to benefit from all inclusive menus (that is a way for companies to keep to their budget). ideal gourmet creates its event organizing service with a purpose to advise, organize and book restaurants for groups.
Always wanting to offer its customers the best ideal gourmet develops two new gift products at the end of 2006 (multirestaurant invitation) along with a new service for companies (reducing business costs linked to restaurants).
The company
Ideal Gourmet
SAS
Details
132 Avenue de Villiers
75017 Paris
France
CEO
Sylvain CARPRIAUX Créateur, Directeur Général
Figures
5,7 Millions euros turnover 2009
Personnel
18 co workers
Activity
Ideal Gourmet is the first reservation central fo restaurants in France with 870 member restaurants in France and over 3500 group reservation requests a year.
Ideal Gourmet
Also sells gift solutions for private persons and companies.
History : key dates
February 2004
Creation of company and website www.idealgourmet.fr
The gourmet invitation is available
January 2005
Prepaid reservation product launch
July 2005
Ideal Gourmet widens its range of products and targets companies : launch of group and banquet service.
November 2006
Creation of Multirestaurant Discovery gift
March 2007
Creation of Multirestaurant Temptation gift
April 2007
Creation of a service to externalize restaurant costs and reduce them
November 2007
Creation of Multirestaurant Prestige gift
1° Event organizing service
This is an advice service for organizing and booking restaurant related events for groups. It allows companies and those in charge of organizing these events to enjoy advice, save time and money.
This service is financed by independent members of the ideal gourmet network and it allows companies to be in touch with a specialized counsellor for group restaurant services. This expert will guide them through organizing their event.
Companies save search time and do not wait for quotes anymore and furthermore, the company will benefit from all inclusive ideal gourmet menus, negotiated in advance and allowing them to stay as close to their budget as possible.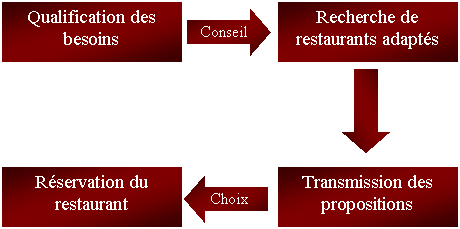 For who ?
All companies, big or small, whether they organise a large or more limited number of restaurant related events each year. A large number of companies use our services each year: Danone, Sanofi Aventis, GE Healthcare, Laboratoires BMS, Philips...
What kind of event ?
A large range of events, team dinners, company nights, product launches, press conferences, working lunches, seminars, conferences, dinners and shows, cocktails, going away parties…
2° Incentive, Challenges, network stimulation, business gifts
Ideal gourmet offers companies an original and personalized gift within the framework of their incentive programs. Companies enjoy the means of communication used by ideal gourmet, the special website among them, that allows them to communicate throughout the challenge.
The gourmet incentive is original and will allow higher worker motivation around a gourmet concept.
Ideal gourmet offers companies two solutions :
The Multirestaurant incentive with the advantage of leaving the beneficiary with a choice among a hundred restaurants.
The "à la carte" Incentive, allowing a ranking of rewards from chic brasserie to 3 star restaurant.
The multirestaurant incentive The "à la carte" Incentive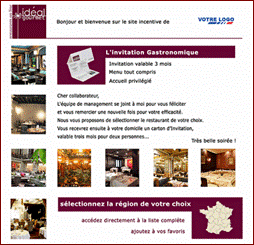 Choice among 390 fine dining restaurants in France
 
Choice among 330 Choice among
 
Choice among 150 Prestigious Restaurants in France
  
Business Gifts
The gift solutions offered by ideal gourmet include a large range of gift restaurants. The ideal gourmet network includes 870 restaurants all over France, allowing companies to offer a gourmet moment to their business relations.
References : Grohe, BPE, Natixis, SAGE, Renault, NDS, ...
3° Externalizing and diminishing restaurant related costs
Handling restaurant related costs is expensive for companies :
The time spent by reservation specialists (individuals or groups)

Looking for a restaurant
Availability requests, handling of options
Waiting for quotes
Confirmation problems (down payments, final payments etc…)

Budget not respected because of extra items not included in the restaurant's original quote (drinks, liqueurs, cigars…)



Administrative and accounting costs

Multiple referencing of occasional providers
Accounting costs because of multiple rules (down payments, final payments, extra items…)

Financial cost because the service is partly paid in advance and/or in cash, not respecting the deadlines for group payments.
Ideal gourmet offers to externalize this handling :
For individual bookings, a website for reservations


For group reservations, with one specialist per request
The handling of restaurant related costs is now a budget line where you can save considerable amounts thanks to ideal gourmet
  
The service is financed by the restaurants that are members of the ideal gourmet network. The companies can save considerable amounts (25% is the average for ideal gourmet customers)
1° Gift products
ideal gourmet created the concept of gifts of fine dining in France in 2004. The idea is simple: on the www.idealgourmet.fr website, the customer chooses a restaurant for his gift and personalizes the invitation. The beneficiary then receives an invitation valid for 1 year, giving him access to an all inclusive menu with choices (per person : drink, starter, main course, dessert, ½ bottle of wine, ½ bottle of mineral water and coffee). The beneficiary then goes to the restaurant, hands in his invitation and enjoys his all inclusive meal.
This offer is available for over
870 restaurants in France,
a hundred star-decorated restaurants.
At the end of 2006, ideal gourmet develops a special offer where the beneficiary can choose his restaurant: the Multirestaurant Discovery gift. This gift allows a choice among a hundred fine dining establishments in France. The invitation remains the same.
At the beginning of 2007 and with the success of the Multirestaurant Discovery invitation, ideal gourmet launches a new offer: the Multirestaurant Temptation gift. The restaurants covered are of a higher range, about ten star-decorated restaurants among the 70 gourmet establishments offered. The invitation remains the same.
2° The prepaid reservation
This product was developed following our customers' requests. It allows to book and pre-pay the reservation by internet. The customer can then enjoy the all inclusive menu at a price that is very often lower than the price offered in the restaurant, and he is certain of the price to be paid in the end. A voucher is sent by e mail, and the customer hands it to the restaurant upon arrival. A menu with no prices is presented to the customer in the restaurant and he can enjoy his meal.
This reservation mode is similar to the one used in the hotel industry and is adapted to British and American clients as well as clients from Nordic countries, keen on using the web and paying online.
3° Group reservations
Just like companies, private persons can use ideal gourmet services for their private events. They can also enjoy ideal gourmet negotiated prices and all inclusive menus.
Ideal gourmet organizes 300 events for private persons each year (meals among friends, weddings, christenings, bachelor parties, birthdays…)
This service is free.


idéal gourmet
132 Avenue de Villiers
75017 Paris
Tél. : 01 45 72 07 14

E-Mail : contact@idealgourmet.fr